The Baltimore Police Department is facing the biggest allegation of corruption in its history. The department created The Gun Trace Task Force originally to get guns and violent criminals off of the streets. At least seven officers of this elite Baltimore task force face criminal charges. Since to mission of the task force is to protect and serve, it is hard to believe it was plagued with so much corruption. In fact, two officers are on trial for massive abuses of power and repeated violations of locals' constitutional rights, according to Vox.com.  
Since the trial began more witnesses have come forward to implicate at least a dozen more officers. The indictment includes various charges of racketeering conspiracy, robbery, and possession of a firearm in a crime of violence. In addition, the officers face charges of filing false reports and claiming fraudulent overtime.
"Racketeering activity" includes kidnapping, robbery, and dealing in narcotic drugs, which are chargeable under state law and punishable by imprisonment for more than one year.
The seven officers named in the indictment are: Momodu Bondeva Kenton Gondo, (34); Evodio Calles Hendrix, (32); Daniel Thomas Hersl, (47); Wayne Earl Jenkins, (36); Jemell Lamar Rayam, (36); Marcus Roosevelt Taylor, (30); and Maurice Kilpatrick Ward, (36), according to the Washington Post. Currently, detectives Daniel Hersl and Marcus Taylor are on trial in the U.S. District Court.
Corruption in the Baltimore Police Department
Seriously, the amount of corruption is reminiscent of a movie called, The Glass Shield. The Glass Shield stars Michael Boatman and Lori Petty. The trailer of the movie depicts two rookie officers who uncover a conspiracy around the arrest of a suspect (Ice Cube).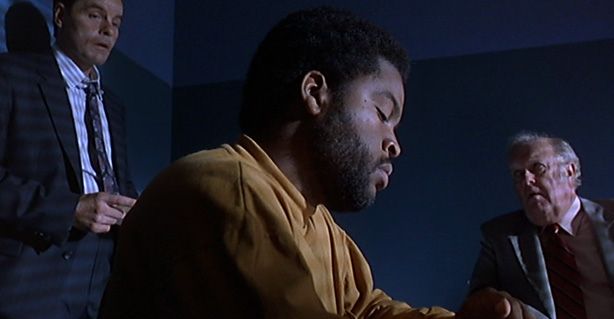 However, this is not a movie.  It is real life. For years, the task force was under investigation. What the federal government discovered was a "task force fueled by corruption," according to Vox.com. The investigation revealed cops that were a part of a Northeast Baltimore drug crew robbing suspects. They even took cash from innocent citizens and resold drugs on the street. These police officers lined their pockets with amounts ranging from at $200 to $200,000. Additionally, the seven officers made about $400,000 in overtime pay between July 1, 2015 and June 20, 2016, according to a report.
Baltimore Cops Planted Toy Guns As Fake Evidence
The most disturbing part of this case is the revelation that cops planted toy guns as fake evidence just in case they shot an unarmed person, according to the report.
After the arrest of Officer Maurice Ward, investigators wondered why a police officer would have a toy gun in his glove compartment? Ward pleaded guilty to racketeering charges; more than lightly those were the lesser charges. He admitted to taking part in four different robberies that took place in 2016. Ward is presently serving time in prison.
With his guilty plea he is currently testifying against his former partners. Ward revealed that Sgt. Wayne Jenkins instructed other members of the task force to keep toy guns with them. Sgt. Jenkins kept a collection of BB guns on hand so he could plant them on people in case an officer was involved in a shooting, according to a report from CBS Baltimore.
This case raises a serious question. Is the Baltimore police department using false evidence in order to protect their officers? As the trial continues, key testimony will shed more light on the corruption that is taking place. These officers took an oath to uphold the law. Officers take a pledge to keep their communities safe. Instead they are using their badges to intimidate and hurt a community that already has trust issues with the police. Whatever the outcome is in this situation, the prosecutors and the defense attorneys will do their best to present their case.